Children's health management system was officially used Xingtai City, Hebei Province MCH hospital.
The hospital is situated in Xingtai city, the bridge area to the west, metallurgical Road south of NO.187.The size of the majority of hospitals, doctors and nurses is strong, advanced medical equipment, distance no one who does not know.The hospital has repeatedly been named as "advanced maternal and child health units", "Children's advanced collective" award of excellence.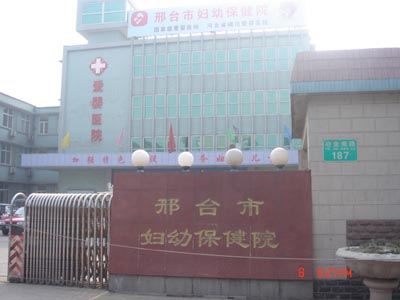 Along with the development of hospitals and community health needs of children continues to improve, the hospital decided to buy a set of children's health management system to better health for children's health Branch's business.Through the hospital's many visits and interviews, compare, finally, the hospital chose us--.Our company is developing a professional hospital management software companies, we have hundreds of customers. Our success stories all over the country.This is because we provide good service, quality, credible, so favored by hospitals.
The company's technology department at the hospital against some of the requirements for children's health management system for creative improvements.

Under the plan is the basic information input window.Previously, the need to take photographs with a digital camera, then browse to the camera, took out the final photos, this is trouble.After listening to the hospital, we have made bold use of a camera.Because the camera has a high-resolution characteristics, sufficient to meet the needs.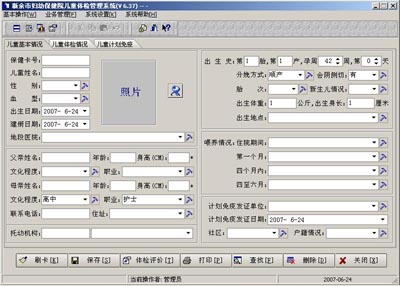 In the above chart, you can see a camera button, mouse click, it can occur under the plan:
After adjusting well, click F12 keys can be photographed, as the chart:
Only a few seconds the whole process can be completed.
We are also in accordance with the requirements of the hospital immunization management component made great changes: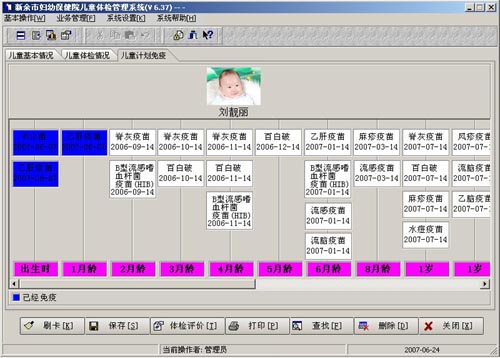 We use topology map showing the vaccine.Vaccination has been a vaccine, we have adopted blue, not inoculated with the vaccine and white, this can clear.If a certain vaccine inoculation is required in the box above right click on the vaccination can occur information, click can be identified to preserve.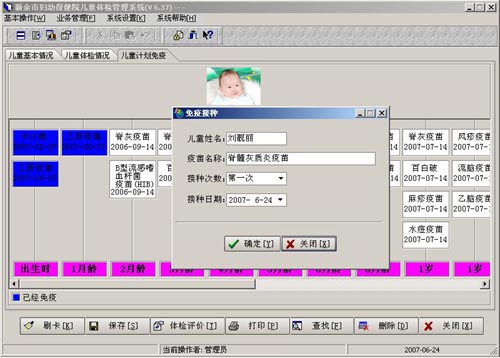 Under the plan is the design of the hospital health card, not only stylish, but also enhance the image of the hospital.In the upper right-hand corner we can see the Dumex milk advertising, the right hospitals, as well as an income.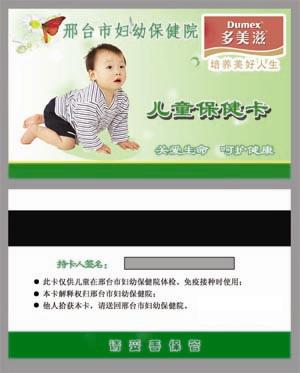 Below are the children's health Print Card: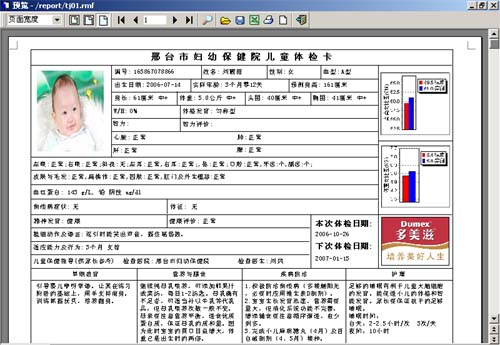 Currently, the system has been successfully operating for three months, the effect was very good.We also opened a fully functional trial version of the software, and welcomed download trial:
Download:

http://www.ghrj.net/program/rttj.exe