Beijing Zhongdegaohua Software Technology Limited Corporation was formerly in Xiangfan, Hubei Province Gaohua Software Company. Our company was established in February 2002. It is engaged in a professional hospital management software product development and technical services for high-tech companies (Including HIS systems and LIS system). After four years of product upgrades and improvements, it is now quite mature. Our company up to more than 200 clients, including HIS system, more than 170 customers, LIS system more than 90 customers in the country. HIS and LIS system that was not only powerful, but stable performance, users received widespread.
In February 2006, the Medical University of Hanover in Germany, surgical navigation computer laboratory, with the support of our company to one million capital injection into, and the official in Beijing Zhongguancun Science and Technology Park Corporation. At the same time, the Beijing municipal government has identified as high-tech enterprises. The company formed products of small and medium-sized hospital management system, in a leading position, including: Hospital Information Management System Standard Edition (HIS), Hospital Information Management System Popularized Version (HIS), The Hospital System, Hospital Outpatient Charges for The Stand-alone System, The Hospital Outpatient Payment System Online, Laboratory Information Management Systems (LIS), Biochemical Frederick Inspection System, Bacteriological Examination System, Blood Bank Management System, and The Pharmacy Management Systems, Pharmacy Management System, To Check Equipment On-line Inspection System, The Wage Management System ... a series of software product development and commercialization . In 2006, our products through software enterprises and software product certification group's certification and software products in Beijing certificates and certificates software enterprises in Beijing.
Our company has a strong technical strength and R & D capabilities。All most of the members graduated from the prestigious universities, more than 70% of all employees have undergraduate or higher. In addition, 26% of the staff have a master's degree or higher. Because of the large staff of both hospitals is the background to understand Hospital workflow, is fluent in the development of software double talents, in the development of hospital management software products with unique advantages. The company founder, Mr. Li graduated from the Department of Laboratory Medicine, in the first line of medical work for six years, after to study at Peking University's institute of software for two years.
In 2003, he had worked in South Korea's most renowned in the development of the hospital network systems company, Yuxin information technology company headquarters in Seoul for a year, and participated in the Korea's largest hospital network systems group Asan modern central hospital network system development. After he returned home, presided over the company's mainstay products HIS system and the system of LIS.
The company's technology executives Zhijun Ruan graduated from the University of Jiangxi calculation and application software professional, after graduating from further studies on several occasions, and he had presided over the successful development of a number of large enterprise management system. 1 In 1998, he took charge of the development of new steel (Xinyu City in Jiangxi Province Steel Plant) Medicare remote clearing system (Novell + sql server) , Jiangxi Qinghuataihao software engineering division of Provident Fund System (Delphi + sql server) in 1999,and took charge of the development of OA system Jiangxi Province sorting and bureau of meteorology in 2000.
Our company's hospital management software is used in the three-tier structure of the advanced technology. Product stability by professional rigorous testing system protection. Many customers use the company's products have been three or four years, without any problems. Our company to good quality and good service, has been widely acclaimed by users. To better for the Hospital of providing local services, our company has offices in Shenzhen, Shanghai, Nanchang, Hubei, Hangzhou and other places, and has a professional training center for customers and agents and Certification Center in Beijing.
After China joined the WTO, Chinese hospital with the international community increasingly accelerated pace, the Chinese Hospital Information construction has entered a new period. Our company will continue to pione spirit and maintain synchronization with the international level. We have to revitalize the national software industry duty, with unremitting efforts to promote small and medium-sized hospitals in China to achieve modernization management.
-------------- Developers volunteered ---------------------------------
Gaohua Li, after graduating from university of the medical examiner professional, and was assigned to a hospital for examination Division in 1997. A few years after graduation, I has been tested in the first line diligently to do with conventional three such inspection.When we use sections of biochemical testing system is owned Shanghai, we use it to management and print single report. However, this system seems to examiners in many aspects of professional enough, a lot of places to use very uncomfortable and barely used after a period of time, I finally decided to develop its own set of more comprehensive software. After numerous day and night, my wish has finally realized. The system uses simple convenience, performance, stability, leadership and colleagues are very satisfied, and immediately replaced the use of the system.Despite Finance and our department is facing the same problems. They often upset about this.They decided to let me develop outpatient and in-patient charges system toll system When they learned that the development of biochemical test system is a success.The result, I developed were affirmed. The new system in the functional or operational users is very satisfied.After success, I began to consider software on the market. In 2002, I build own web site.Below is my first website screenshots:At that time, it was only a dozen or static pages, daily visits only several 10.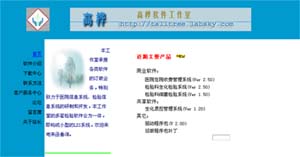 By the end of 2002, South Korea-Yuxin information technology company in China Affairs Department head to search our site. They are South Korea's most powerful medical software company, almost all of South Korea all major hospital network system development. I was their invitation because of my 10 years experience in software development and in the hospital five years work experience. Below is the original work units to produce proof I:
I participated in the Hyundai Group's Central Hospital THIS System Development arriving in Seoul on March 1, 2003. The hospital is quite large, not only possesses all the world's advanced medical equipment, but both headquarters and five branch offices in any of the scale are far greater than the current general the top three hospitals. The hospital is required the seamless integration of PACS LIS HIS OCS to HIS system at that time, Division Headquarters and can share data, software package prices up to 30 billion won (about 20 million RMB), which does not include any hardware costs. The development of the system is very difficult; therefore the company mobilized almost all of the technical personnel. I joined them and the process, I learned a lot of things, but we also made a lot of valuable experience. Below is my letter to the technology-Yuhang of the Department of photographs:
By the end of 2003, I decided to give up their company's generous treatment, I returned to the motherland in the cause of development.After returning home, I am lucky enough to encounter a person such as Hei Zi, Zhou Yuntong and Zhang Junkun. Since we are working in hospitals, and fond of a computer, and a common vision, so we work closely together in the development of Gaohua medical software.After a year of effort, we have made remarkable achievements. Our users across all parts of the country, our site IP traffic up to 1000 times daily. Below are our website counter: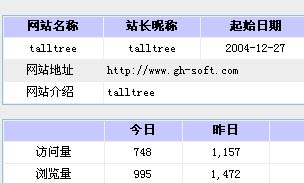 During this period, we not only received a lot of users' e-mails, but also for our software have made many recommendations. These views are our most valuable asset. After extraction, these recommendations will be quickly reflected in our software. The pace of upgrading the software soon, the medical software is very rare [View examples]. Our software through the test of a large number of users, our software for a number of optimization and upgrading, operation more stable, are increasingly popular with users.We sincerely deal with clients, customers return to us in good faith.We have frequent contacts, and many of our customers have forged a profound friendship. Below are posting screenshots:

If use "高桦软件 " in http://www.google.com search, there will be as many as several hundred thousand Gaohua software, a family of software-related information. Many well-known download sites contain almost all of our software such as Sky, Huajun and so on etc. Why our software so popular? A set of software development can be divided into three steps: Analysis+ development +testing. Reasonable time ratio is 4:4:2.That is to say analysis generally accounted for around 40% of the time. Good product is based on a comprehensive and thorough analysis. Before the development of software, we have no interest to rush, but the analysis put in a lot of time and effort grade and to write a lot of documentation. To develop excellent products, the key is a comprehensive and thorough analysis. The following documentation is the analysis part of the demand:

Today, software developers are using Visual Programming, so programmer's workload has been significantly reduced. A more mature desktop database management system code volume is about 10 million lines around, but our software code are still far in excess of this figure.The following information is customized to a hospital system in the archives of the compiler, this system to more than 80 million lines.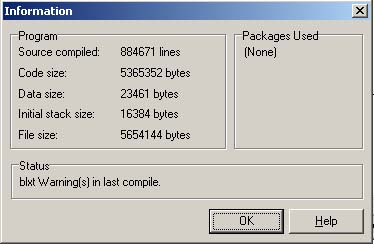 If we are to reduce the workload , we can use a large number of third-party controls in the development ,we just need a very small amount of code to write, will be able to achieve functional. However, we failed to do so, we are using the basic controls, many functions have to rely on manual written code can be achieved.Third-party control may reduce the procedures stability. Written procedures in order to perfect, we prefer to write many code. We even wrote a very long pile of code, only to allow users to operate less when they hit a shortcut. Therefore, the first impression is "thoughtful" when users to use our software. None of our managers and businessmen is technicians. Therefore, we did not utilitarian and not impetuous; our greatest goal is to bring our software to do better. Just use some software, the speed slowly, but the use of a long time, much more slowly. Our software is not the case.Below is a test for database forms: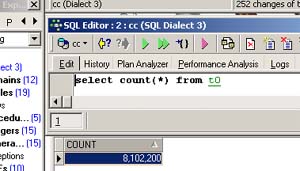 We use cycle model into a database of over 800 million records for testing.In such a large amount of test data, if the software has a potential problem, will be immediately exposed prototype. After such a stringent test, the software publicly was released.Below is a set of software test record. Each of the test results, we will be detailed record:

God has given me the return.Through our efforts, software has finally come out.We take every practical step, and to reject any means Manipulation. Each of our details is a work norm. Now, some users have continuous use of the software for three or four years, without any problems, This is our highest honor.


---------------------------------
我的私人空间有很多韩国风光照片,点击可以欣赏:
http://www.ghrj.net/lghindex.asp