Warm congratulations, Gaohua born medically proven successful management system at one stroke in Jiangxi Province Xinyu City's overall procurement (A total of 135 sets)
Gaohua Birth Medical Certificate Management System is a good Birth Medical Certificate (Birth Certificate). Applicable to hospitals and clinics, maternal and child health centers, public health, community health service stations issuance, processing and management "certificate".The system of processing, release and management apply to hospitals and clinics, maternal and child health centers, public health, community health service stations for the release, the processing and management of the "Birth Certificate". The latest National Unity Birth Medical Evidence is a sample of software.It is very comprehensive, system functions and strong scalability, it is not only easy to use, and simple, quick installation. The system print format is completely self-definition forms.Users can freely adjust the birth certificates to all the contents of print position.Because of the system of a strong and stable functions, and a "high Cheng software" good brand image,Gaohua born medically proven successful management system at one stroke in Jiangxi Province Xinyu City's overall procurement (A total of 135 sets)
Let us give a brief introduction of this system; the following is the birth medical evidence main interface.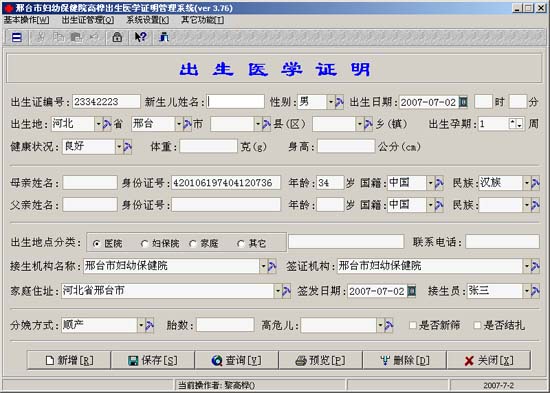 All operations are to support a full keyboard operation. The entire operation is finished, just knock on the enter button can move the cursor to the next one input box. There is a blue button in each of the drop-down box behind,in the drop-down box input, click on the green button, they can add or delete.The contents of the drop-down box, but also can be set to default or cancellation of the default. This configuration drastically reduces the workload. The common information can be used arbitrarily added to the drop-down box; the most commonly used messages can be set to default. If a work unit using the software, it could push the local provincial and municipal names were set to default, the nationality of the parents also can be set to the default China.Therefore, the operator's input will be greatly reduced the volume.
A birth certificate numbers generated automatically. The first printing, we must note is that the importation of a birth certificate and a birth certificate numbers to the corresponding numbers. In the second printing, birth certificate number will automatically add one. We would be grateful if a birth certificate in strict accordance with the order to print.So, our system automatically generated on every birth certificate number and a birth certificate can be able to own each other's numbers.
Importation of parents ID, the system will automatically calculate the age.

Below are the birth certificate format design window:
Set up a birth certificate format window, all the content can drag. Click on the Drive after preservation, then click Print test, it can test the print location. Then drag, and preservation, further testing, and test until Print position completely accurate so far.
Labeling a choice, and then clicking on the following among the four direction keys, levels have accurate labeling mobile location.
The printing birth medical certificate software is not only difficult, is the key.Birth medical certificate to print the contents, which are also detailed, it is not easy alignment.How accurate print has been a problem in the industry. The company is using the patented technology, print location visualization operate fully with the mouse drag on can be changed. Allowing users to easily and accurately printing.
Now, we are opening a fully functional trial version are welcome to download trial:
Download Address:

http://www.ghrj.net/program/cszm.exe