Children's health management system briefings
Operating environment:WinXP, Win2000, NT, WinME, Win9X
Software Size:10 MB
Software Introduction:
"Gaohua Children's health management system briefings"It is a very appropriate for the children's health departments children medical management system. Since the software has been well received by consumers. Today, the country has our users.MCH Xinyu City in Jiangxi Province is a typical user.Its main feature is the use of magnetic region of the medical examinations of children, health care, nutrition, immunization management, and detailed record of the child's medical information. Also, it can automatically projections under a medical examination time. The system also can be the basis of the inspection outcome and disease, automatic generation of statements. This will not only effectively prevent many tedious, but effective in improving children's health management level.The system is very convenient to use, child medical card format can be defined. The system uses "visual" technology; medical cards for each of the elements in place can drag with the mouse, to see it can be.
First time please use the "name, administrators, the password a" landing.
Below are the children Print medical card, it can be seen that the future plans: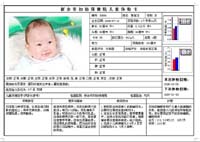 Recently, the system in Xingtai City, Hebei MCH hospital successfully on the line : Look at the success cases:
http://www.ghrj.net/brttj1.htm

Free download child health management system beta version>>>